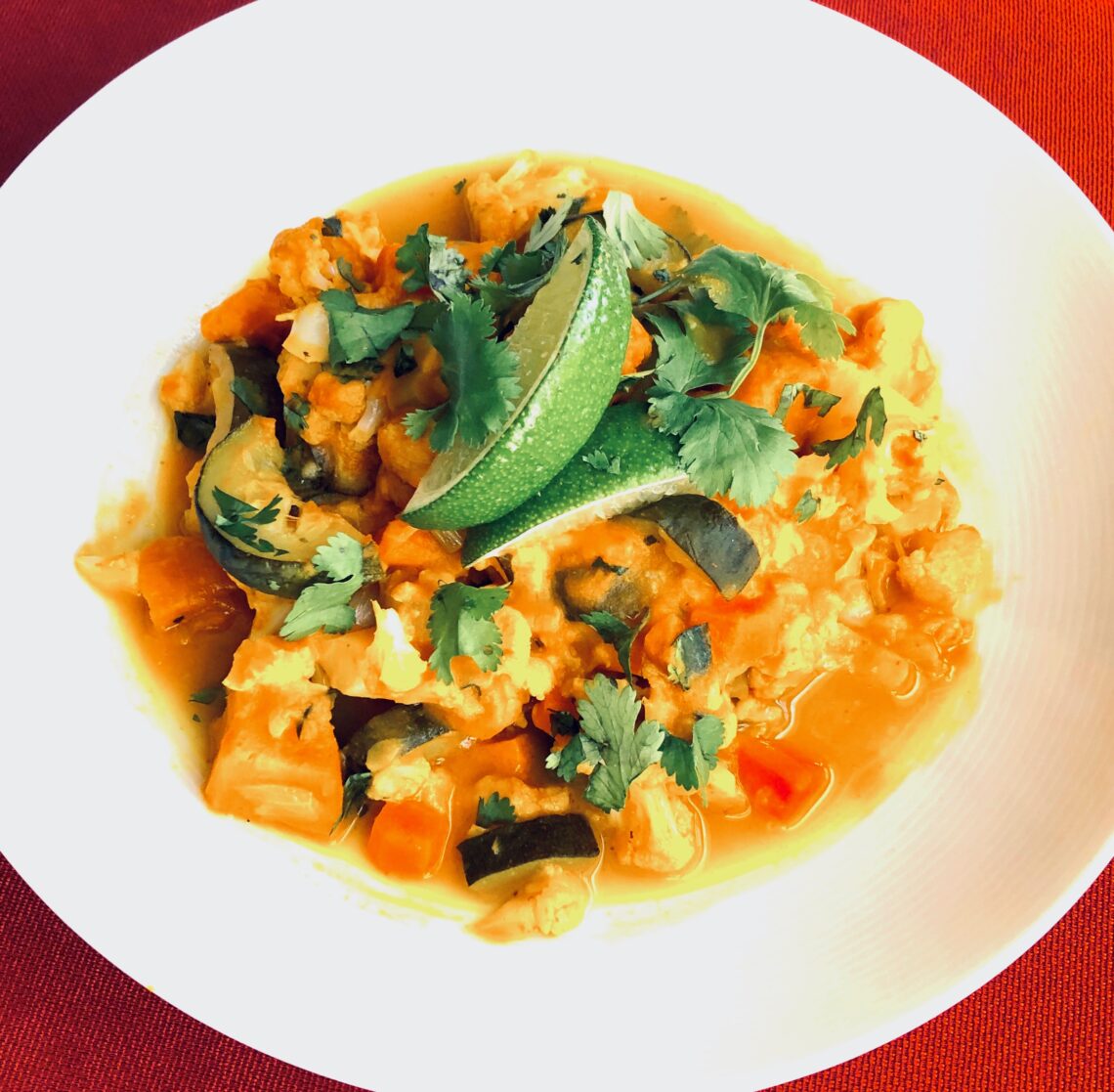 Coconut Curry Veggie Stew
INGREDIENTS 
1 teaspoon virgin coconut oil
1 large yellow onion, diced
4 cloves garlic, minced
2 red bell peppers, diced 1 inch strips
2 carrots, 2 inch rounds
2 zucchini, 2 inch half moon cuts
1 head of cauliflower, florets (fresh or frozen, added the last 20 minutes of cooking time)
2 large yams
1 cup canned pumpkin purée 
1 cup of diced tomatoes
1 can full fat coconut milk
1/2 cup low sodium, yeast free chicken broth
1 tablespoon, yellow curry (add more if you like)
1 teaspoon, cumin
1/2 teaspoon, garam masala
Sea salt & pepper, adjust to taste
1 Lime
1/4 bunch cilantro, chopped
Preparation
In a large pot on medium high heat, add coconut oil and heat for 2 minutes. Add the onion, garlic, and peppers. Saute for 7 minutes. Add the carrots, zucchini and yams. Season lightly with sea salt & black pepper. Stir ingredients and sauté for 5 minutes.
Add the pumpkin, tomatoes, coconut milk, broth, and all listed spices. You can add a little more sea salt and black pepper at this time. Seasoning in layers creates more flavor.
Stir all ingredients and cover the pot until you reach a boil. Once you reach a boil, reduce the heat to simmer. Let the stew simmer for 20 to 30 minutes until the yams are fork tender. At this time, add the cauliflower and stir into the stew. Keep the pot uncovered and continue to simmer the stew for another 15 minutes. Once the stew appears thicker, it will be ready.
Add the juice of 1 lime and stir to incorporate. Adjust flavor as preferred with more sea salt and black pepper. Sprinkle with fresh cilantro for garnish. Enjoy!
Recipe by: Chef Marcella Guglielmo