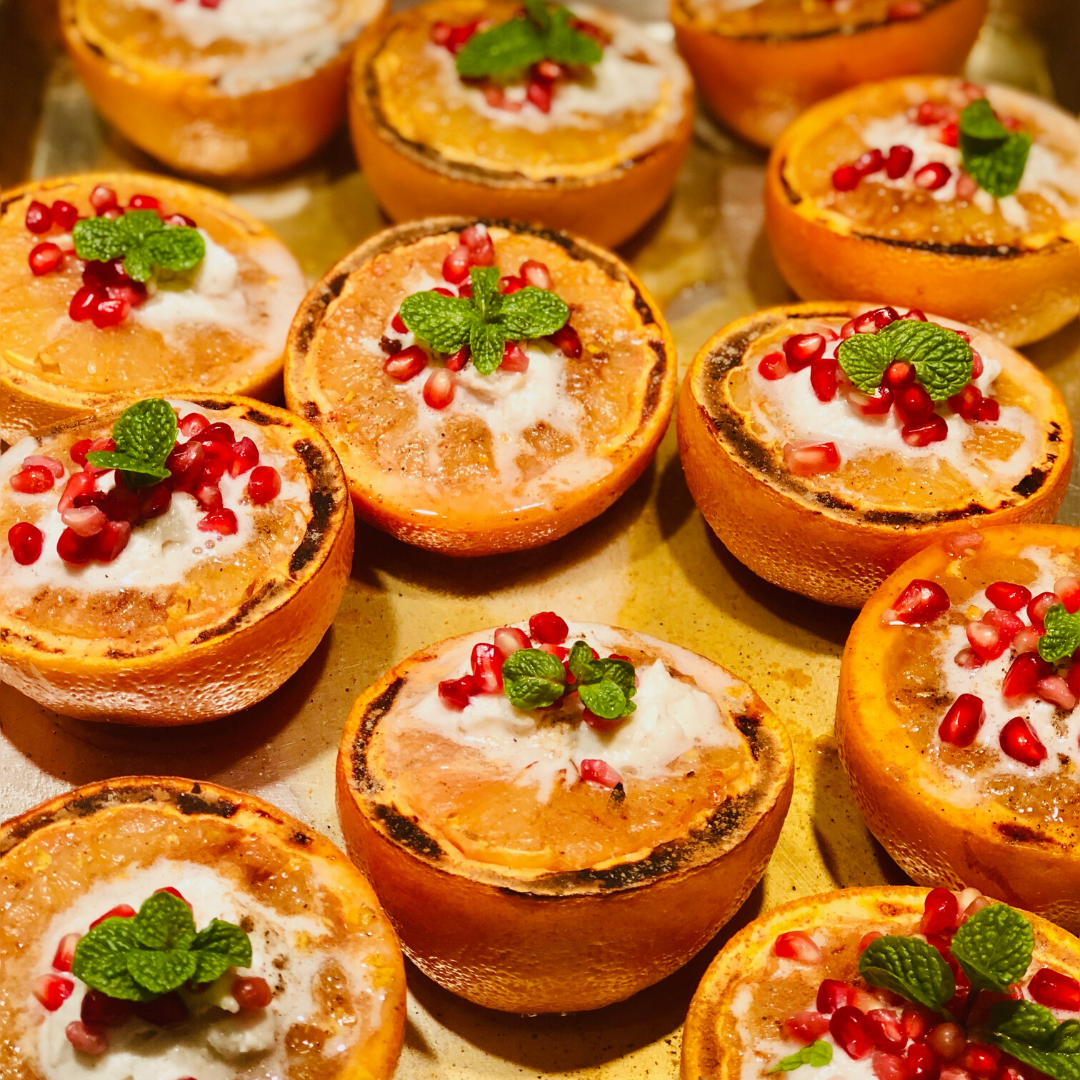 Sweet & Spicy Broiled Grapefruit with Coconut Cream
Ingredients for Grapefruit
3 red or pink grapefruit
1/4 cup maple syrup
1 tablespoon, vanilla extract
1/4 teaspoon cardamom
1 teaspoon cinnamon
1/2 teaspoon ground ginger
12 mint leaves, 2 leaves per grapefruit
1/4 cup pomegranate seeds
Preparation
Preheat oven to broiler setting.
Cut each grapefruit in half, horizontally across the middle. On the bottom of each grapefruit, slice off a little layer of the skin to allow it to sit stably. Lastly, cut along each section of the grapefruit to loosen the segments. Remove as many seeds as possible.
In a mixing bowl, add the maple syrup, vanilla, cardamom, cinnamon, and ginger. Whisk until all the ingredients are blended. Brush each grapefruit with a generous coating of the mixture. (Optional) Sprinkle the grapefruits with more of the spices before adding to the broiler. Broil for 4 to 8 minutes, or until bubbly. Garnish with a dollop of coconut cream, pomegranate seeds, and fresh mint leaves. Best served warm. Enjoy!
Ingredients for Coconut Cream
1 cup chilled coconut cream from canned full fat coconut milk
1 tablespoon maple syrup
1 teaspoon vanilla
Pinch of sea salt
Preparation
Remove the solid portion of the coconut cream from the can and add to the blender. *Try to keep as much liquid out of the cream as possible. Add the remaining ingredients to a high potency blender and blend on full speed until you reach a smooth consistency
Recipe by: Chef Marcella Guglielmo